David Graves
Site Admin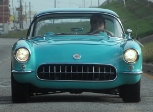 Joined: 02 Jun 2005
Posts: 1368
Location: Warsaw, TX
Posted: Tue Jun 21, 2005 8:04 am

Post subject: Quarterly Meeting Minutes - September '04

---

Dallas Area Classic Chevy Club
Meeting Minutes, September 19th 2004
Rawlings Sports Grille, Ballpark in Arlington





Old Business



1) Review of DACC items available, new caps $15 each, new decals $3 each and business cards to use to promote the club



New Business



2) Details of the December meeting were given. Larry Rollow spoke to the details. Larry is coordinator with his church to have a team to assist in building wheel chair ramps for those in need. No carpentry skills required. Women encouraged to participate. Event to occur Saturday Dec 11th, meet at 8AM at facility near Midway and LBJ for about 4 hours. If you have a cordless variable speed cordless drill, those would be helpful. Dean Schmidt offered to have a Christmas pot luck get together later that day at his home. Larry and Dean to work out particulars. More details to follow in newsletter as event approaches.

3) David gave details regarding the Drive In Movie event on Saturday October 9th. Meet at 4:45 at Park Springs and I-20 in Arlington in the Park-N-Ride parking lot, leave there at 5:15 for the hour drive to Granbury and the Brazos Drive In. Members of DACC along with the Metroplex Muscle Car Club and North Texas Camaro Club will attend this event. Cost is $15 per car load. Show of hands indicated about 8-10 cars would be attending

4) David discussed the Fall Foliage Tour that is being coordinated by members of the Central Okla Classic Chevy Club. Schedule calls for social gathering Friday night at the host hotel in Poteau, Okla, Saturday leave about 11AM for Van Buren, Ark taking about 1 ½ hours to make the drive, having dinner in Van Buren at 4PM, then returning afterward to Poteau. Social activities at the hotel Saturday night would lead to Sunday's return trip. Reservations need to be made ASAP. It was agreed that as a club we would leave Dallas at 1PM on Friday Oct 22 from the Wizard's Sports Grille parking lot for a 5 hour drive to Poteau.

5) David discussed club bylaws that were distributed in the last mailing and emphasized that we needed to get this in place in order to move forward with the reorganization of the club that began Jan 1st of this year. Format and structure appeared to be acceptable. Getting a quorum appeared to be the biggest challenge. We discussed having email responses, mail responses and proxies to allow members to vote. Kevin Brown suggested a free program available for use on the net to allow voting. A combination of those will be used to allow members to vote on the bylaws, using Oct 31st as a deadline.

6) David discussed the November Meeting, to be held at the Spring Creek BBQ located at Main and Highway 114 in Grapevine. Main agenda will be to elect Board members for DACC.

7) David discussed planning for the 2005 Autorama in February. Suggested a 1955 Chevy theme to celebrate the 50th Anniversary of the '55 Chevy. David has received an ok from the Autorama organizers for a 6-8 car display. Suggestion was for perhaps a 4 car display of '55's and then a '56 and '57. Also discussed was the need for well engineered presentable stanchions for the club to use each year. Needed is someone with the skills to engineer, skills to build or resources to acquire the material needed for DACC to have stanchions that are built to accommodate 4-10 cars and be storable. David asked for volunteers to handle the '05 Autorama and Kevin Brown said he would coordinate.

Dean Schmidt gave details of Treasurer's Report year to date. Club cash on hand stands around $600. Details for the club financials are available on the web through Quickbooks web site for anyone to review, request the password from Dean.

9) Discussion regarding having spouses more involved was held. It was agreed that certain club functions spouses enjoy more than others. Club wants to maintain an environment that welcomes spouses at all events and activities.

10) David spoke briefly regarding continue efforts to secure sponsorship from a area Chevy dealership. Goal is to locate a centrally located dealership and build a relationship that will promote both the dealership and the club to this area. David has made pitches to several dealerships with the assistance of a club friend that works closely with Chevrolet dealers and those efforts will continue until we accomplish this goal.

11) Marvin Johnson announced that John Rush was the winner of the People's Choice Show and a plaque with a photo of his car will be presented to him.

12) Howard Hess in a joking manner presented files and the old typewriter that was used to produced past newsletters for the club. Howard took over the newsletter from David in the early nineties and produced the newsletter for over ten years before David then gave Howard relief form this monthly chore in the last year or so. The technology used to produce the newsletter today vs. then has changed dramatically!

13) Several newer members introduced themselves to the group and described their cars and those members were welcomed to the meeting.